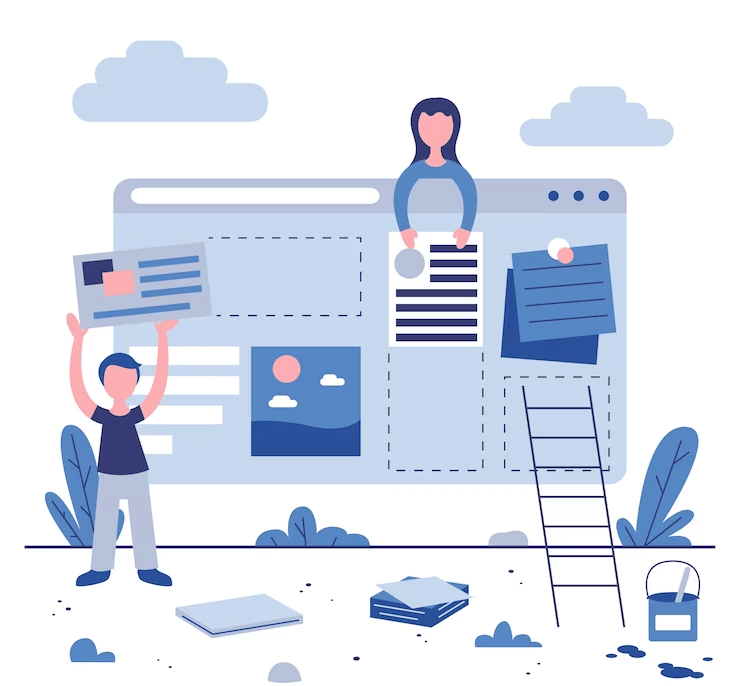 Are you trying to customize your
WordPress theme
to make your website stand out from the crowd?
If you're not satisfied with the default WordPress themes and want to customize your website, WordPress offers different options to personalize your theme design to your taste. 
There is a plethora of both free and premium themes available for you to pick from. Depending on the nature or concept of your website such as an online store, or a portfolio site, real estate, healthcare, and others, you'll find a theme that suits your needs perfectly. 
In this post, we'll discuss various ways to customize your WordPress easily, but before that let's first understand why you should customize your WordPress theme.
Customizing your WordPress theme offers numerous benefits that can make your website unique and differentiate your business from your competitors in the market. Here are some key reasons why you should consider a WordPress customization theme-
It helps to create a distinct visual identity that stands out in the crowd and aligns with your target audience.

Enhances user experience effortlessly, making your website more user-friendly and engaging.

Helps to improve your website's functionality with customized features, plugins, and widgets.

WordPress customization allows you to reduce vulnerabilities and safeguard your website from potential threats.

Improves your search engine ranking by optimizing meta tags, headings, and URLs for better visibility.
There are many ways you can customize your WordPress theme. In this post, we'll explore three easy methods to customize your WordPress theme to your preference. These beginner-friendly options will allow you to make simple changes to your website without having advanced coding skills. You can pick the one that suits your needs.
Now, let's explore each of these methods-
1. Customizing Your Theme with the Default Theme Customizer
If you're a WordPress beginner, utilizing the default theme customizer could be the best way to customize your theme. 
Just follow these simple steps to personalize your theme to make your website a masterpiece- 
Begin by logging in to your

WordPress Dashboard

.

Go to the "

Appearance

" option in the menu (usually located right below your active theme).

Click on "

Appearance

" and then select "

Customize

" from the dropdown menu.

With this, you will be redirected to the

theme customizer

screen where you can explore multiple options in the sidebar to customize your theme.

Suppose you want to change the site title and tagline for your website. For that, in the

theme customizer,

you need to locate the "

Site Identity

" or "

Header

" section.

You can see the options to edit the site title and tagline. Simply enter your desired text in the provided area.

As you make changes, you will be able to see a live preview of how the new title and tagline will show on your website.

Once you are satisfied with the changes, click on "

Publish

" to save the updated site title and tagline.
By customizing the site title and tagline, you can add a personal touch to your site and communicate the essence of business effectively to your visitors.
That's it! You can now experiment with other settings and personalize your theme according to your preferences.
2. Customizing Your Theme with the WordPress Full Site Editor
Another method to customize your WordPress theme is to use WordPress Full Site Editor which extends block editing capabilities beyond posts and pages. 
First, you have to log in to your WordPress Dashboard.

Go to "

Appearance

" and then select "

Editor

."
It'll take you to the Full Site Editor screen, where you can modify your website using blocks.

To add a new block, click the "+" sign on the upper-left side of the dashboard.

In the blocks section, select a block and drag and drop it to your desired location.

Furthermore, you can explore the patterns section and experiment by adding pre-designed patterns to your site by dragging and dropping them and enhancing the appearance of your website.

For instance, you might need to add a Testimonial Carousel pattern to show customer feedback. Just drag and drop the Testimonial Carousel pattern onto your site, and it will automatically settle with your chosen testimonials.
You can experiment with different patterns like Hero Sections, Pricing Tables, or Call-to-Action banners to create engaging and dynamic content that grabs visitors' attention and encourages them to take action.
Note- It is important to notice that all themes don't support Full Site Editing, and you should have a block-compatible theme and WordPress 5.9 or higher to use this feature. 
Moreover, you can explore some of the best WordPress full-site editing themes available to take advantage of this powerful customization tool.
You can customize your WordPress by using a page builder or framework. Here's how you can do it using the popular Elementor Page Builder:
To use this method, you need to install and activate the

Elementor Page Builder plugin

.

As it is activated, you will see the

Elementor

option on the left side of your WordPress dashboard.

Choose "

Getting Started

" to initiate the WordPress theme customization process.

Click on "

Create Your First Page

" to create a new page using Elementor.

With this click, you'll be redirected to a screen where you can start tailoring your page using Elementor's intuitive interface.

There are various options and settings available in Elementor, explore them to achieve the desired look and layout for your website.

Play around with elements, drag and drop widgets, adjust styling, and include content as needed.

Keep on previewing and refining your modifications till the time you are satisfied with the customized appearance of your website.
By using a page builder like Elementor, you can easily and visually customize your WordPress theme. You can create a unique and personalized website that resonates with your specific requirements and design preferences.
Apart from these three methods, there are other advanced WordPress customization techniques, but that require advanced coding skills, we'll be discussing those methods in our upcoming posts.
If you want to choose the best theme for your WordPress site and gain insights into their features and pricing, we invite you to visit our blog- "Best Multipurpose Themes".
Customizing your theme is an excellent way to make your website unique and stand out from the crowd. The three ways covered in this post are simple and beginner-friendly which will surely help you to give the perfect look to your site. You can also contact us, in case you face any difficulty in customizing your WordPress theme. We have a team of WordPress specialists who are just a call away to support you.