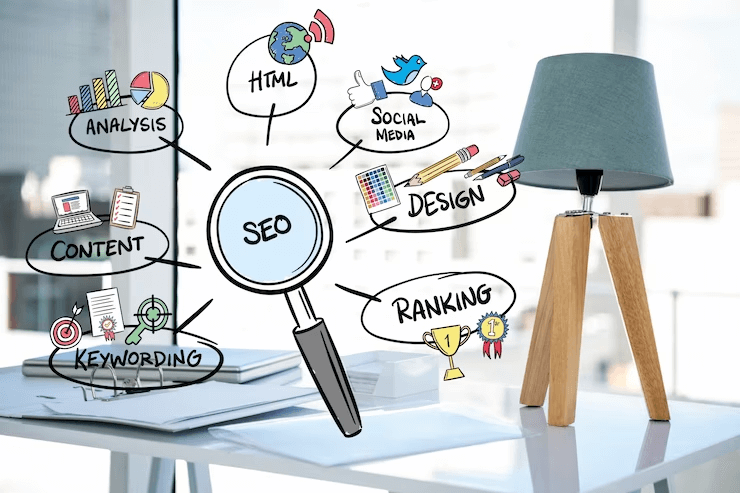 Do you have a WordPress site and are struggling to improve its search engine ranking? You may be making common
SEO mistakes
!
Search Engine Optimization (SEO) is highly effective to attract organic traffic, improve ranking and generate leads. However, it's crucial to be cautious as certain SEO mistakes can negatively affect your website and hinder its search engine ranking.
But, nothing to worry about because these WordPress SEO mistakes are avoidable once you're aware of them. For example, targeting the wrong keywords, using poorly codded themes, using large-size images, etc. are common pitfalls. If you avoid these errors, you can potentially enhance your website's ranking.
In this blog post, we'll highlight the most common SEO mistakes and how to avoid them to improve your online reputation, increase brand awareness and boost ranking on Google while maintaining effective WordPress customization.
Let's dive into each of these issues and get some helpful tips on how to avoid them-
1. Targeting Wrong Keywords
Keywords play a crucial role in WordPress SEO. Ideally, one should choose keywords that align with the search terms commonly used by your target audience. 
However, this can be challenging at times. Many people make the mistake of selecting keywords with low search volume or targeting the wrong audience.
To overcome this, it's worth considering "long tail keywords." These are longer and more specific phrases, typically consisting of up to six words. Although they may get fewer searches, they tend to attract a more focused audience and are often easier to rank for.
Conducting thorough research is also important. Google Keyword Planner is the most popular free SEO keyword research tool. 
It provides insights into the search volume for your chosen keyword and offers a list of alternative possibilities. You can use this tool to get targeted keywords that will ultimately help you to improve your WordPress SEO.
2. Not Using Title and Meta Tags
Title and meta tags play a crucial role in your website's SEO ranking. When search engine bots crawl and index your site, they rely on this backend information to assess its validity. That's why optimizing your meta titles and descriptions is vital.
A valuable WordPress SEO plugin like Yoast SEO is widely used by SEO specialists for optimizing title tags, meta descriptions, improving readability, and site maps. 
Having unique title tags and meta descriptions sets you apart in the eyes of search engine bots, influencing your ranking positively. 
Note-Avoid simply using your company name as the title tag; instead, create compelling and persuasive meta descriptions using focused keywords that entice users to click through to your website.
3. Using Large-sized Images
One of the most common SEO mistakes is uploading large, high-resolution images directly to the media library. These images are great for printing but in WordPress, it results in unoptimized storage.
Some themes automatically resize uploads, but many don't. Fortunately, plugins are available to automatically optimize images, but remember to back up your website before using such tools to avoid unintended deletions or overwrites.
If you want to learn more about image optimization in WordPress, you can refer to our blog- How to do image optimization in WordPress?
4. Using Low Quality or Irrelevant Content
When determining the ranking of a website, Google takes into account the expertise displayed in the content. 
If the keywords embedded in the content do not align with the actual content, look irrelevant, or if there is a lack of important content, Google cannot accurately assess the credibility of the website.
In order to get the best result for the search inquiry, your website should have the most compelling content.  Poor quality content not only affects Google's evaluation but also discourages customers from exploring other pages on the site.
To create effective content, focus on popular topics presented in an easy-to-understand manner, incorporating your expertise in WordPress customization. Your content should be unique and provide helpful information and advice to the readers. 
It's also great if you use a creative tone to make it more engaging. Despite this, you should also pay attention to clear and compelling CTA (Call-To-Action).
To make your content show up higher in search results, it's helpful to use a tool called
Yoast SEO
. It gives suggestions on how to improve your content to make it more search-engine friendly. But sometimes, people don't follow these suggestions and their content doesn't do well in search results.
There are important things to include in your content, like a short meta description, using the right keyword density, Alt Text, keywords (in the beginning and at the end), etc. If you don't include these things, your content might not rank high.
But don't worry! You can fix these issues by following the suggestions from Yoast SEO. It will tell you what to do, like adding a description and using the right words in your content.
If you're looking for other tools like Yoast SEO that give suggestions for improving your content's SEO, two good options are Rank Math and SEOPress. These tools can help you optimize your content and improve your search engine rankings.
SEO is an effective technique to boost a website's search engine ranking. However, we make some very common SEO mistakes that adversely affect the ranking and online reputation of our website. In this post, we, have mentioned some common mistakes that you should avoid if you really want to take your WordPress site to new heights. If you are a WordPress owner and unfamiliar with SEO, feel free to
reach out to us
for assistance.