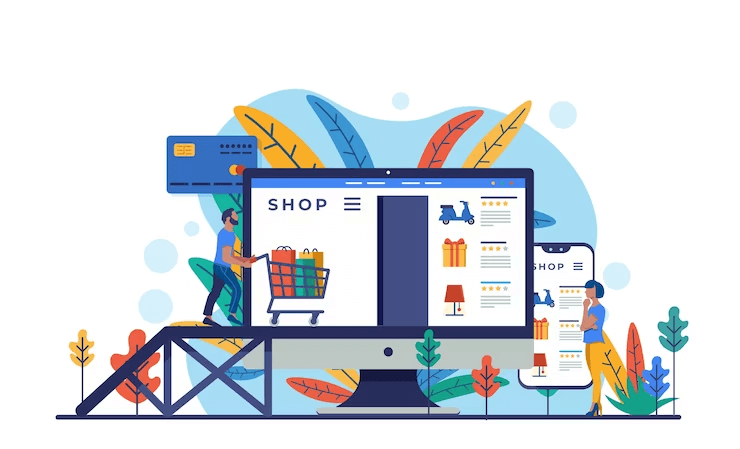 Are you planning to start an
eCommerce store,
but the technical aspect of building an online store terrifies you? If you're not tech-savvy, don't worry, as this step-by-step guide is designed to help you.
Starting an online store involves a lot of things including market research, choosing a niche, selecting a domain name, website design, product listing, and so on. 
There is a lot to juggle, but with the right guidance, it can become a smooth and pleasing journey.
In this post, we'll break down each step into simple instructions, making the process simple and accessible even for people without a strong technical background.
Launching your own online store is an exciting opportunity to earn a substantial profit. To help you walk smoothly on this path successfully, we've outlined seven crucial steps. 
These stages will lead you from concept to a fully functional online store, ready to serve your online customers and fulfill your business goals.
1. Business Planning & Market Research
When you want to
start online store
, this is the first step. With the increasing trend of online shopping, there has never been a better moment to launch your eCommerce store.
It's important to lay a strong foundation for your venture from the beginning. It starts with a clear understanding of your e-commerce business, your products, and your target audience. 
Additionally, try to dig deeper into other essential questions, such as:
Do you need any licenses or permits for your business?

What's the estimated cost of running your operation?

Who are your rivals in the market?

How the shipping products to customers will be done?
Studying your competition and knowing your potential customers can be a great help. It'll make things like writing product descriptions and deciding the right
social media platform
for advertising your products much easier.
Many people don't take online store platform selection seriously and end up making the wrong choice. Thankfully, we are here to guide you, saving you from making such a mistake.
When it comes to eCommerce platforms, there are two popular options we recommend: Shopify and WordPress + WooCommerce.
Shopify is an all-inclusive eCommerce platform starting at $29 per month. It's user-friendly, you just need to log in to start selling. However, those with limited budgets may find this costly.
This is why many users prefer WooCommerce for its flexibility. While you have to do the initial setup, the long-term benefits make it worthwhile. 
WordPress is the most widely used website builder, and WooCommerce ranks as the world's largest eCommerce platform.
To start your eCommerce store, you'll need a domain name, web hosting, and an SSL certificate. Let's briefly understand them-
Domain Name:

This is nothing but your website's address on the internet. Users will type this address in their browsers to reach your site. This will cost around $14.99 per year.
Web Hosting:

This is your website's home on the internet. It's a server where all your site's data, files, and content are stored. The web hosting costs around $7.99 per month.
SSL Certificate:

This adds a security layer to your website, especially if it processes online transactions and sensitive information like credit card details. It's a mandatory component for secure online operations and typically costs around $69.99 per year.
We recommend you choose, Bluehost, a trusted WordPress and WooCommerce hosting provider. It offers a special deal for users, providing a free domain name, a free SSL certificate, and discounted web hosting. You can get started for $2.75 per month.
3. Set up your WordPress Site
When you log into your Bluehost-hosted WordPress website, you might be offered assistance, but you can proceed by clicking 'I don't need help.
To set up your WordPress site:
Visit Settings » General to set your site title. You can use your store name for it. 
Your hosting package includes a free SSL Certificate which will be installed already. Change the "WordPress Address" and "Site Address" to use HTTPS instead of HTTP in the same "Settings » General page. Now save your changes. With this, your basic WordPress setup is now complete.
Go to the WordPress dashboard and install and activate the WooCommerce plugin. Once activated, WooCommerce guides you through the initial setup using a setup wizard.
It'll ask you to provide basic store information. Select your store industry, specify the types of products you intend to sell, and offer some business details. 
It's important to uncheck the 'Free Features' option to avoid unnecessary extensions. You can include them later if required. 
Apart from this, you'll choose a theme for your store. Once these steps are completed, your basic WooCommerce setup is finished, and you're ready to start building your online store.
5. Choose a Payment Method
To accept online payments on your eCommerce store, you can configure various payment gateways. 
Go to WooCommerce settings and navigate to the 'Payments' tab. You'll see options like PayPal Standard, Cash on Delivery, Checks, and Bank Transfers by default. 
Besides, you can install Stripe, PayPal Checkout, and WooCommerce Payments. It's advisable to select Stripe and PayPal Standard as your payment methods. 
For each gateway, click 'Set up' to provide necessary information, such as API keys for Stripe. After this, save your payment settings. 
Now, it's time to start adding products to your online store. You can do this by clicking on the Products » Add New page in your WordPress dashboard. 
Here you have to provide a title and a detailed description of the product. Create a product category for easy organization.
In the 'Product Data' section, input pricing, inventory, shipping details, and more. Add a short description for every product which will be visible to users when they view the product.
On the right-hand side, upload the main product image and create a product gallery. Once you've added all the product information, click 'Publish' to make it live on your website. You can add more products using the same steps.
7. Choose the WordPress Theme for Your Online Store
Themes are the crucial factor in shaping the look and feel of your WordPress site. It also affects the way your WooCommerce products are shown.

While there are numerous paid and free
WordPress themes
available, not all are optimized for eCommerce. You can refer to our blog to get more info on
eCommerce themes
.
Once you've installed a WooCommerce theme, you can tailor its appearance to meet your specific preferences. 
Simply access the "Appearance » Customize" page to launch the theme customizer. Most modern WooCommerce themes offer diverse customization options and are designed to work seamlessly on both desktop and mobile devices.
Launching an online store is a daunting task. But with the right guidance and support, it can be a smooth and rewarding experience. If you are planning to create your online store, be sure to follow the steps mentioned in this post. If you find any issues while establishing an online store,
contact us
. Our team is always ready to serve you.