Improving your online presence is significant in today's digital era. One highly effective way to achieve this is by claiming your
Google Knowledge Panel
. 
When you search for a specific company, individual, or location on Google, it generates a knowledge panel on the right side of the Search Page. This panel is designed to provide essential details and information to assist users to get the answers to their queries.
Google Knowledge Panel can significantly enhance your business's visibility in search engines. And if you're using WordPress, this process becomes even more accessible and efficient.
Let's quickly understand some valuable insights into the Google Knowledge Panel-
Knowledge panels are the boxes that appear on the right side of Google's search result containing information about your search query. They offer a quick overview of information on a particular topic based on Google's understanding of web content. It helps users understand more about their query.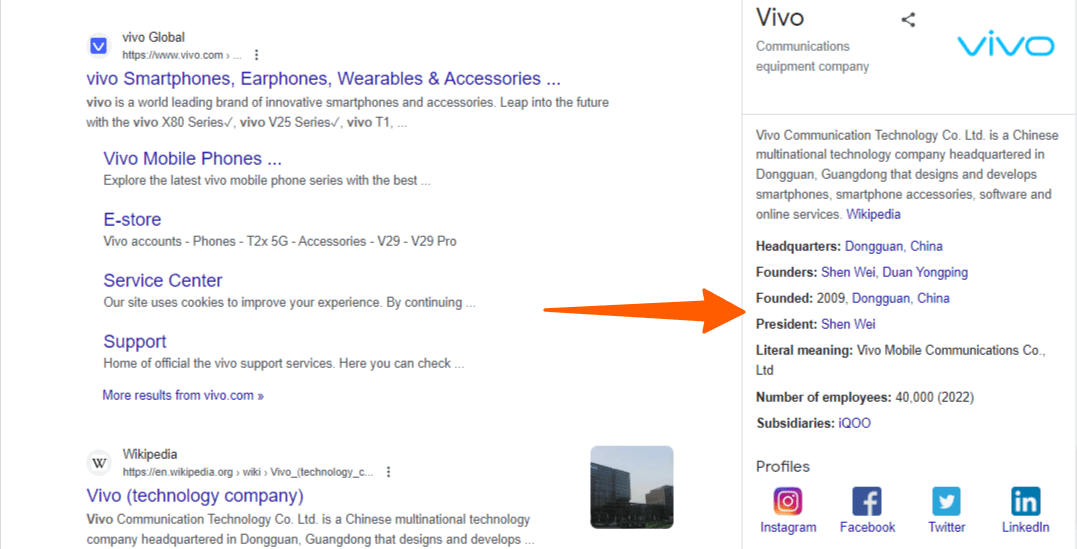 Google knowledge panel typically includes the name of a brand or person, logo, details about the entity, and descriptions. It also displays contact information, useful resources, social media links, and images.
Claiming a knowledge panel for your brand is crucial because it often serves as the first impression prospective customers get when searching for your brand. Furthermore, this provides valuable information and also adds credibility to your brand name. 
The more your brand is mentioned online, the more reliable the information in the knowledge panel becomes. These further build trust with potential customers searching for your brand.
Why it is Important for Businesses?
For eCommerce businesses, knowledge panels are an excellent way to provide insight and useful information to potential customers. This is the first element that catches users' attention.
Google Knowledge Panels significantly enhance the likelihood of users clicking on a link and visiting your website. This, in turn, benefits your website's SEO.
Much like Google answer boxes and featured snippets, knowledge panels make your website more prominent on search engine results pages (SERPs). 
Moreover, Google Knowledge Panels serve as a powerful tool for enhancing brand visibility. These panels prominently showcase your business's logo, website link, social media links, and other branding elements. This provides you with an amazing opportunity to introduce your brand to a broader audience.
How to Claim Your Knowledge Panel?
Several steps are involved in the process of establishing ownership. We will guide you through each of them in the following section-
This first step is to make sure you have a Google Account. In case, you don't have one, you'll have to create that first.

Next, open Google Search and t search for either yourself or the entity you're representing. Locate the knowledge panel situated on the right-hand side of the search results page.

When you scroll down to the bottom of the knowledge panel, you'll see "

Claim this knowledge panel.

" Click on this. 
Important: If you are unable to see the knowledge panel for your business, that means it may not have made it to Google Knowledge Graph yet. To add your website content to Google Knowledge Graph, check out the next section.
Google conducts thorough checks to verify your ownership. It might ask to submit identification such as a passport along with the image.

After this, you'll be required to sign in to one of the official websites listed below. You need to do this to validate your status as an authorized representative of the entity on Google. These options will be YouTube, Facebook, Twitter, and Search Console.
Once these steps are done, Google will process your request to take control of the knowledge panel listing. You'll receive an email confirming your Google Knowledge panel in a few hours.
How to Incorporate Your Website Content to Google Knowledge Graph?
The data within knowledge panels is automatically generated from Google Knowledge Graph. You may not have direct control over the displayed content but you can ensure that Google effectively finds and comprehends the information from your eCommerce store website or WordPress site.
One of the effective ways to achieve this is by implementing schema markup to structure your website. Schema markup involves a specialized form of HTML code that provides search engines with additional insights about your website and its individual pages.
You can seamlessly incorporate schema markup into your site and specific pages using All in One SEO (AIOSEO). This is renowned as one of the finest WordPress SEO plugins available. AIOSEO automatically integrates schema support into your site. It also offers a wide range of optimization features to improve your content's search engine rankings.
How to Add Knowledge Graph Schema Markup to Your WordPress Site and eCommerce Store?
Adding schema markup to your WordPress website helps improve its search engine visibility. Also, it helps search engines to better understand and present your content. This can improve the overall user experience and increase the chances of your website appearing in knowledge panels and top search results.
Now, let's understand how to add Google Knowledge Graph schema markup. 
Start by clicking on All in One SEO and then the Search Appearance page. Now access the 'Knowledge Graph' section. Here, you can provide basic information about yourself or your business.
Add your website's link and optionally, an alternate name. Specify whether it's for a person or organization. This will help to decide the knowledge graph type.
Now input your organization name, and phone number, and select the appropriate team or department. Upload a logo for the knowledge panel. This logo size should not be larger than 112 x 112 pixels. 
After this, click on the 'Save Changes' button to save the modifications you have done.
Claiming your products directly in the product knowledge panels is not possible. So, add schema markup to your online store. By doing this, Google will consider your eCommerce store and show it when displaying places to buy products similar to what you offer.
When editing a product in WooCommerce, you'll find 'AIOSEO Settings' below the product editor. Here you'll have to customize the product title and description for search results.
Now click the 'Schema' tab to access the Product schema added by AIOSEO. Click the 'Edit Schema' icon and provide additional product information like brand, material, and identifiers. This data will be included in Google Knowledge Graph and will be used in product knowledge panels. Ensure your product listings are well-optimized to enhance their visibility.
Google Knowledge Panel is a powerful tool. It significantly impacts your online presence and allows users to quickly access vital information about your brand or entity. By claiming and customizing your Knowledge Panel, you can actively improve the first impression potential customers get when they search for your business. Use this guide to learn the process of claiming Google Knowledge Panel and shine in the crowded online marketplace. Don't hesitate to contact us if you need support related to this. We are WP experts and can help you become successful in the online world.